Oklahoma School of Science and Mathematics
Installs New Gas Chromatograph Mass Spectrometer for Student Use
Sophisticated Machine Used in Many Fields to Detect Substances, Including Fire and Explosive Investigations, Airport Security and Environmental Analysis
OKLAHOMA CITY, Okla. — (April 28, 2022)- The Oklahoma School of Science and Mathematics (OSSM) announced today that it has purchased a gas chromatograph mass spectrometer for student use in OSSM chemistry classes. This sophisticated instrument enables students to identify different substances in test samples and is widely used in forensics, fire investigation, food safety, environmental analysis, and petrochemicals, among other fields.
OSSM students and faculty appreciate the generous funding from ONE Gas Foundation, Presbyterian Health Foundation, Bruzzy Westheimer, and Jeri and Warren Thomas for this state-of-the-art instrument.
"One of our goals at OSSM is to ensure that our students' laboratory experiences include working with modern instrumentation in courses such as Organic Chemistry and Biochemistry," said Fazlur Rahman, Ph.D., S.J. Sarkeys Chair and Professor of Chemistry at OSSM. "This instrument provides students the ability to separate, identify and quantify compounds at very low concentrations in complex mixtures. There is no more sensitive analytical instrumentation that can be used in a teaching laboratory situation than GC-MS. The machine will not only strengthen our chemistry/biochemistry curriculum, but also immensely help expand students' involvement in research mentorships leading to research publications."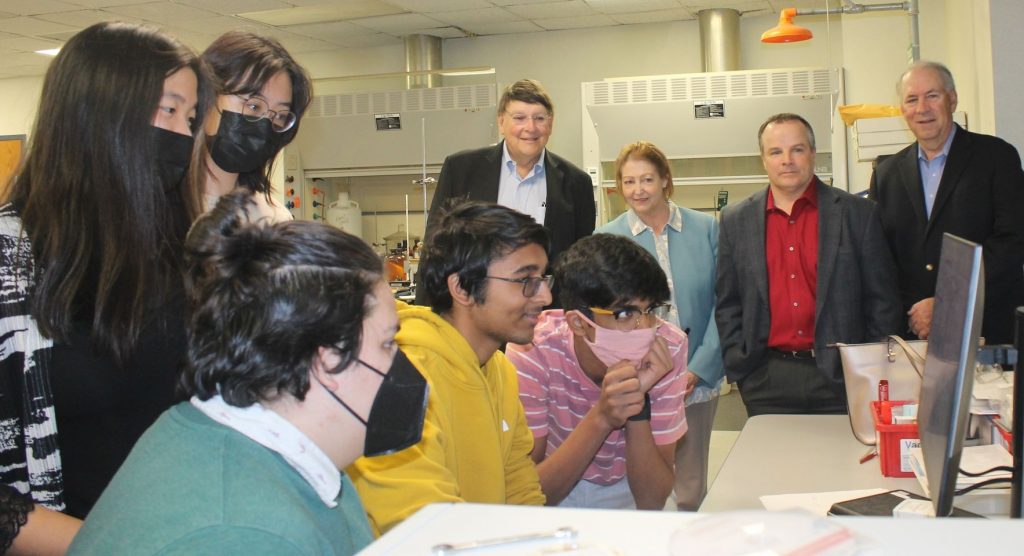 ONE Gas Foundation, Presbyterian Health Foundation, Warren & Jeri Thomas, and Bruzzy Westheimer band together to bring new scientific instrument to OSSM Chemistry department!