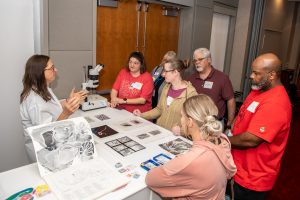 Nearly 40 Oklahoma middle school math teachers became students again this week, receiving a glimpse into the medical research that results from the passion they instill in students.
OMRF on Tuesday hosted teachers from the Sarkeys Foundation Summer Math Institute at the Oklahoma School for Science and Mathematics. The weeklong program includes teachers from Inola to Mangum and Madill to Sayre.
Scientists at the nonprofit foundation showed them, among other things, research samples from arthritic knee joints of mice and explained how the regenerative qualities of flatworms might someday apply to humans.
OMRF President Andrew S. Weyrich, Ph.D., welcomed the teachers, calling them "the unsung heroes" behind the minds that shape OMRF's research.
Throughout the year, OMRF hosts students from elementary school through college for various education and outreach programs, Weyrich noted. "We do that in part because we know Oklahoma students are paramount to the future of research."
OMRF Vice President of Government Affairs Lisa Day, an OSSM [Foundation] board member, helped organize the event.
"It's gratifying to connect these teachers with a real-world application of the skills they develop in students," Day said. "Much medical research requires a mastery of math. Their skill and passion for teaching make what scientists do at OMRF possible."
During their afternoon at OMRF, the teachers split into small groups to visit lab stations staffed by scientists.
Using a microscope and oversized monitor, David Forsthoefel, Ph.D., demonstrated how quickly the flatworms he studies can completely regenerate their organs. He hopes the clues he learns from the tiny worms might lead to new help in treating conditions ranging from bowel disorders to paralysis.
"We study the flatworms because we hope to learn their secrets," Forsthoefel told the teachers.
Beggs Middle School teacher Carol Creason called her trip to OMRF "tremendously helpful. It shows how important mathematics is to all sorts of jobs outside of the traditional math field of study."
Creason was so impressed with Forsthoefel's presentation that she plans to include flatworms in future lessons.
"I normally use bean plants so they can chart growth, but now I'm going to have them chart regenerative growth in flatworms," she said. "They'd have a blast."
Reprinted with permission
OMRF hosts teachers for afternoon of research