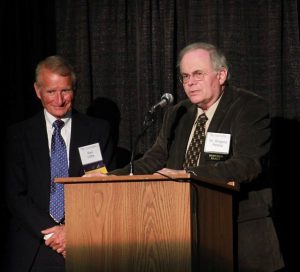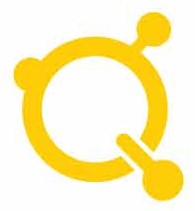 OSSM's 2018 Quantum Experience on Thursday, April 5, was a truly Awesome evening!  Students welcomed guests to an exciting reception and then escorted them to a scrumptious dinner in the OSSM Great Hall.  OSSM Foundation chairman Joel Champlin welcomed everyone as host, and i2E, Inc. CEO and noted OSSM advocate Scott Meacham emceed the evening.
OSSM alumni are doing outstanding work every day in all sectors and industries to solve problems and increase quality of life across Oklahoma, our country, and our world.  The awesome stories are endless and are growing with every graduating class!  The OSSM Foundation was pleased and proud to introduce a few more "Awesome" alumni this year:
Jihan Ahmad Abdul-Haqq, M.D. (OSSM Class of 2000, Carl Albert H.S. — Pediatrician & Owner of Peace of Mind Pediatrics)
Will Atkins, M.S. (OSSM Class of 2001, Hooker H.S. — Computer Engineer/Cybersecurity R&D, Sandia National Laboratories)
Ryan Dennis, M.D. (OSSM Class of 2001, Macomb H.S. — Hospitalist and Founder of Linear Health Sciences)
Steven Meier, Ph.D. (OSSM Class of 1998, Chickasha H.S. — Section Head, Engineering Physics, ExxonMobil)
(Full bios available in program at link below)
Keynote speaker Gregory Petsko, D.Phil., of Weill Cornell Medical Center gave a superb presentation on the causes of and treatments for Alzheimer's and Parkinson's Diseases, the current state of research into them, and the increased impact these destructive, deadly diseases will have in the future without a cure.  He called for greater investment into critically-needed research and in the kind of highly rigorous STEM education taking place at OSSM to solve these and other major world problems.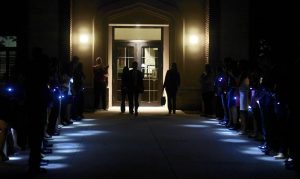 Many thanks to all our sponsors for their magnificent support for OSSM's world class faculty and for helping transform more Oklahoma students' lives every day through advanced academics!
SEE program, sponsors, photos, videos & more HERE!
2018 Quantum Experience was "Awesome!!"